Valzy Business Valuations
for Accounting Firms
Your client's detailed internal business valuation delivered in minutes – all you need is the basic company information
Relied Upon By 100+ SBA Lenders and SBDC Consultants Nationwide






No Business Valuation Experience Required
Just follow these four simple steps!
01
Enter Company Information
All you need is your basic company information, which includes:
Industry, Location And Ownership Details
02
Enter Financials
Enter a simplified version of your financials, such as revenue, profit, and non-cash expenses.
03
Answer Risk Questions
Respond to a few company specific risk-based questions.
04
Obtain Value
Your final value will be outlined in a detailed PDF report, with explanations related to value, assets, liabilities, risks, and more.
Discover What Valzy Can Do For You
Rule of Thumb
Express Valuation feature
Get a quick estimate of value for your clients business using Rule of Thumb just by answering a few simple questions
White Label
Customize your final report to look like your own
White label your report by uploading your firms logo and choosing your own color theme to implemented on your PDF reports
Manage Reports
Manage versions of reports for different outcomes
Create multiple versions of a report for the same company to view fluctuations and changes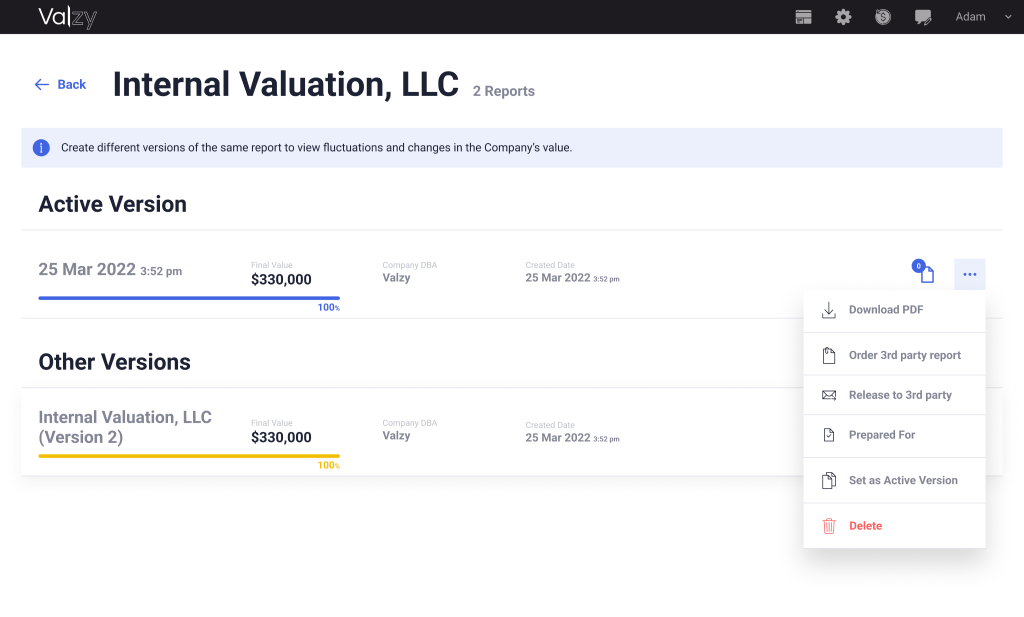 Share Settings
Share reports with Users inside and outside of Your firm
If you are unaware or missing any information, simply share the a report with a user within or outside of your organization
Notes
Personalized notes in each report
Write notes in each report and even choose whether or not you would like to inlcude them in the PDF report. This allows for easy collaboration, explanation, and personalization in each report
Release to 3rd Party
Send the completed valuation to your client
Send your client the final PDF version of their business's valuation straight from the within system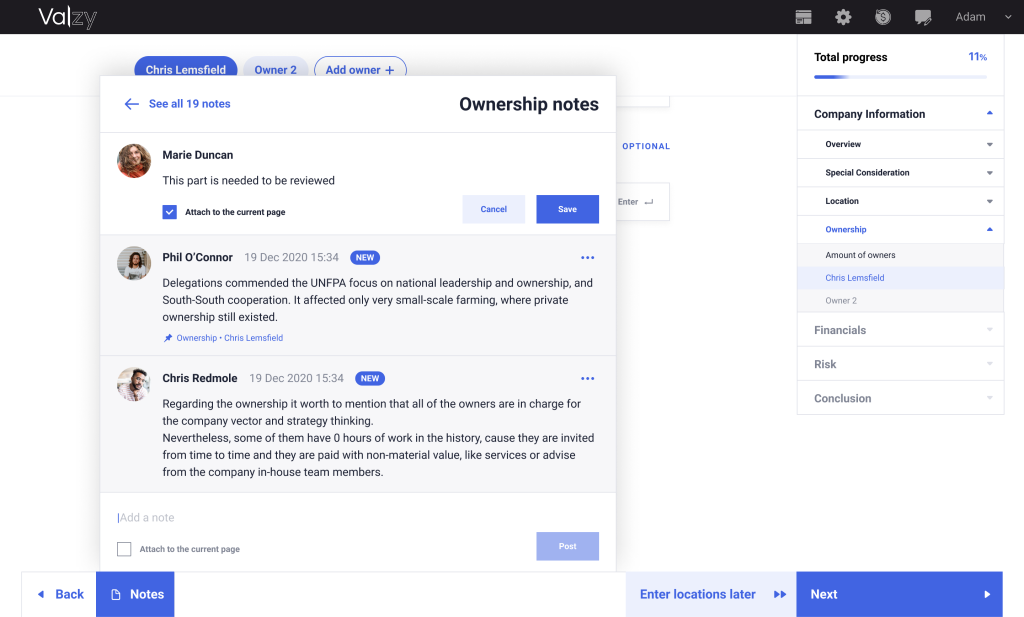 Manage Reports
Manage multiple versions of the same report
Take a snapshot of your clients previous report and update the report with new data to quickly create an updated version of the report
Dashboard
See all your client's reports all in one place
Our user freindly Dashboard allows you to see all the reports you have created all in one spot
Dashboard Features
Use the Dashboard to access features
From the Dashboard you can access features like Share Settings, Release to 3rd Party, Manage Versions, and more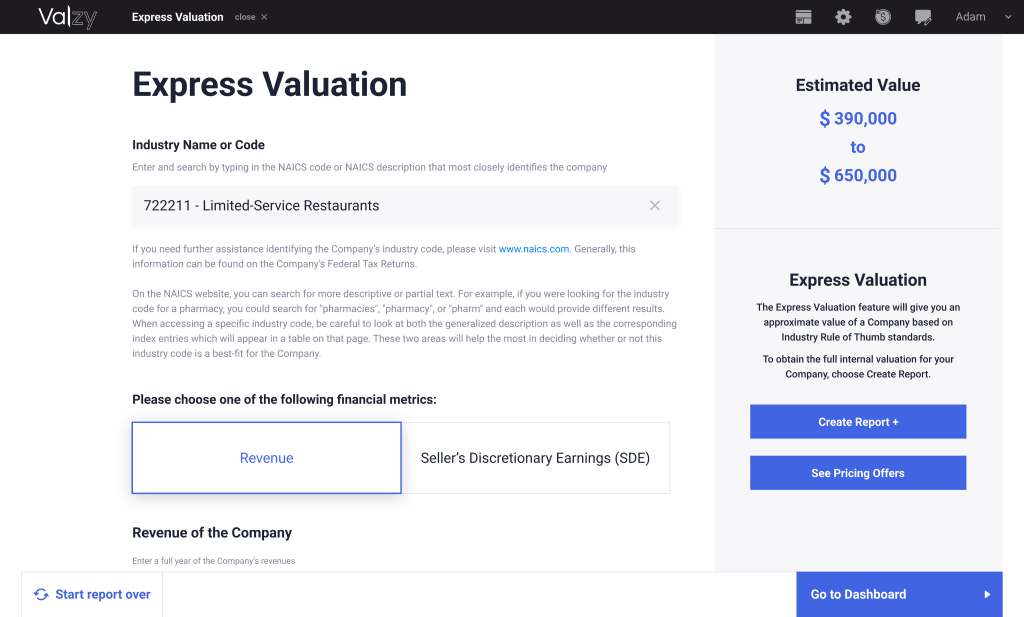 We know business valuations can be complex and difficult. WIth Valzy, we can help you eliminate the complexity.
Save Time
Business valuations can be very time consuming. Valzy allows users to generate a report in less than 20 minutes.
Save Money
Business valuations are expensive. Valzy creates a full PDF business valuation for a fraction of the price
Simplify the Process
Business Valuations are complex and are subject to human error. Given all Company information and data is entered correctly, Valzy will help eliminate this risk
Empower Client Business Decisions
Plan Your Client's Future
It is important for your clients to understand the value of their business for many reasons. One of these reasons is to help your client plan for their own future as well as their business's future. A typical example is that within a business valuation report, there should be a dedicated section that discusses the Company's risks factors. These risk factors can range from things like supplier concentration, keyman risks, barriers to entry, and more. Valzy has an entire section built into its algorithm which factors risk rates like these into the calculation of the business valuation.
Attract Investors
Before accepting an investment, always make it a point to know the fair market value of your client's business. This will help you in advising your client on the proper value of their business to ensure that no money is left on the table on either side.
Plan For An Expansion
Creating an expansion plan entails analyzing things like a business's risk parameters, financial history, daily operations, and so on. All of these must be carefully detailed in any reputable business valuation. Getting an accurate valuation is critically helpful in showing a business owner what facets of their business they need to focus on to expand. Are sales stable? Are earnings growing year-over-year? Is the balance sheet strong enough to support a safe expansion? These are all questions a business owner should get answered from a reliable business valuation.
Ensure Fair Market Value
One of the most important reasons that business owners should know the value of their business is to ensure the owner gets a fair value for their business if they ever choose to sell it. Many small business owners rely on the sale of their business to fund their retirement, other future business opportunities, etc., and while hiring an accountant or valuation analyst to appraise a business can be costly, it could save a business owner thousands of dollars, if not millions in the long run. There are many horror stories revolving around business owners selling their businesses for well under fair market value. Additionally, if a business owner knows the value of their business prior to putting the business up for sale, he or she could plan accordingly to ensure the best value when deciding to sell.
Software That You Can Trust And
Ensure is Accurate
Reliant Business Valuation's team of experienced appraisal professionals help power Valzy's tool using data and powerful algorithms.
Over
10
years in business valuations
More than
10,000
business valuation reports
A team of over
20
appraisal professionals
All Your Internal Business Valuation Needs,
In One PDF Report
The final PDF report is highly detailed and easy to understand for all readers.